Apply Today!
START EARNING MYCASH AND TIER POINTS TODAY
You're invited to apply for the mycash MasterCard® Credit Card Today. Click the link below and in just a few minutes you'll be piling up the mycash and Tier Points!

You must be at least 21 years of age and in good standing to be eligible for the Penn National Gaming Loyalty program. You must be the age of majority to be eligible for the credit card. If under 21, I understand I am applying for the mycash MasterCard and will not receive any comps, tier points, or other benefits from this card.
WIN A PRICELESS EXPERIENCE
It's your chance to win a once-in-a-lifetime opportunity! Penn National Gaming and Mastercard want to send you to The GRAMMYs®, the Pebble Beach Food & Wine Festival or The 149th Open. Read on to learn more about these incredible experiences and how to earn entries.
Caption Goes Here
Member Hotel Booking
MYCHOICE Members
As a member of mychoice, your play can qualify you for discounted hotel rates. Click the button below and enter your mychoice number on the calendar to view the best rates available to you.
Caption Goes Here
Special Offers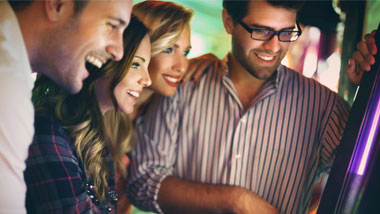 Caption Goes Here
The Experience
You'll find 2,100 slots and more than 70 tables

Endless Games Casino